Key events
That's me done. Thanks for reading and for your emails and tweets. Until next time! Ta ra!
Read Louise Taylor's match report
Leicester rode their luck, but you have to give Dean Smith and co a lot of credit. There were a lot of raised eyebrows at his team selection – leaving out Barnes and Maddison – but this point at Newcastle could potentially be season-defining. They need to beat West Ham on the final day to stay up, but that is very doable, with the Hammers preparing for a European final on 7 June. \
That point also means that Leicester are now only relying on Everton not beating Bournemouth, not the result of Leeds, who are now 19th on goal difference. Hope that makes sense!
Newcastle players react to making the Champions League
Sean Longstaff:
If you told us two years ago that this was going to happen, I wouldn't have believed you.
Kieran Trippier:
It means everything. I took a risk when I came here but I believed in the club. They have been through some tough times, but now they reap the rewards.
Full-time: Newcastle 0-0 Leicester
Newcastle have qualified for the Champions League! Leicester rise to 18th, and could yet escape relegation on the final day!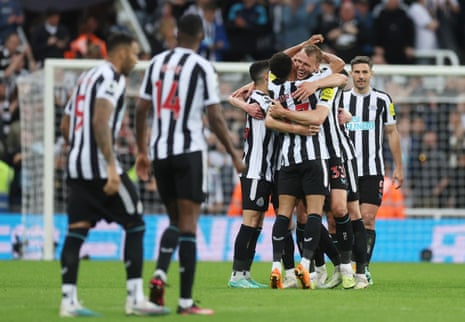 90+5 min: Both sides seem content with a draw.
90+4 min: Pope rushes out to collect a dangerous Leicester through ball, with Barnes lurking. Excellent goalkeeping from the England international, who has had virtually nothing to do all night up until this point.
90+2 min: Longstaff catches Maddison and suddenly Leicester have a dangerous free-kick on the right wing. The ball eventually comes into the box … chance for Castagne! Save from Pope! The Belgian hooks a volley towards goal, and Pope dives to his right to parry the ball out. Burn is there to hack the ball away. Leicester's first attempt on goal, and it was nearly the winner. A really good save!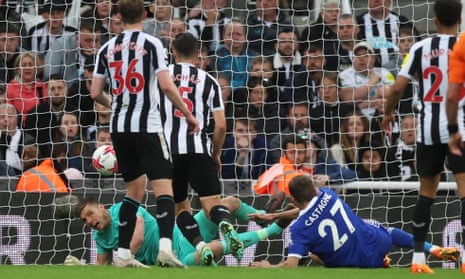 90 min: Poor pass from Schar and Tripper is forced to bring Barnes down, to stop a dangerous Leicester counter-attack. Momentum has definitely shifted here! Newcastle now look like they are holding on for a point.
Five minutes added on for injury time.
89 min: Both sides make changes: Newcastle introduce Gordon for Almiron, while Leicester bring on Mendy for Ndidi, who looks like he's got a knock of some type.
88 min: Leicester thrice win the ball back high up the pitch, and press forward! Tielemens tries to play Barnes in on goal, and only a crucial block from Schar stops Leicester from having a golden chance!
86 min: Leicester are passing the ball. I'm shocked the away end are not chanting 'olé!' Whisper it, but Newcastle look … nervous! Suddenly the crowd are wary of their side blowing it.
84 min: Leicester are yet to have a shot. The last time a Premier League team failed to do that in a game was back in 2019, with Eddie Howe's Bournemouth.
82 min: Watching replays of that Guimaraes miss. It is absolutely extraordinary.
80 min: Leicester's time-wasting has started. And who can blame them?
78 min: Another Newcastle change: Murphy is on for Anderson. Almiron goes into the No 10 role, and Murphy goes to the right. You can't fault Howe for not trying things. But credit to Leicester. They have been lucky, but also been well organised. Which is in stark contrast to recent performances.
76 min: Iversen makes another save and this one is a good one! Longstaff breaks into the box, collects a clever Tripper pass, and fires through a crowd of Leicester bodies. Iversen falls the ball, and uses his feet to shovel the ball away. Another wave of attack is repelled.
74 min: Newcastle have now had 20 attempts on goal, but only three of these have hit the target. Iversen has only really been tested once, from that fierce Isak drive.
72 min: Newcastle hit the woodwork for the third time! From a home corner, Faes so nearly scores (another) own goal, glancing his header towards the back post. Guimaraes is completely free and only has to head the ball into an empty net, but the Brazilian seems scared of heading the post, and half-pulls out of his header. Instead, it is the ball that ricochets off the post, and Leicester hack it away. Still 0-0!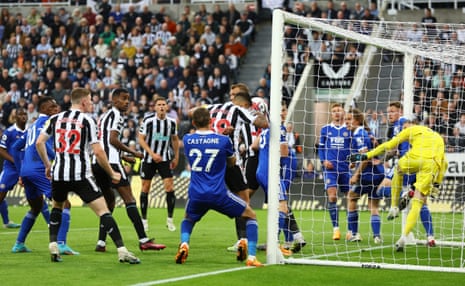 70 min: A win is obviously preferable, especially for Leicester, but a draw isn't the worst result for both sides.
Here is the table, as things stand. Leicester up to 18th, Newcastle securing Champions League football.
68 min: Newcastle respond with a change of their own: Wilson off for Saint-Maximin. Isak will move to the centre, and Saint-Maximin will slot in on the left. Wilson was very quiet tonight, after his red-hot run of form.
66 min: Leicester do at least look like they carry a threat with the pace of Barnes and Daka. But will it disrupt Leicester's defensive shape? I am predicting a late Newcastle winner (1-0).
64 min: Leicester win a corner! Here we go! Barnes drives at Trippier, but the resulting corner doesn't beat the first Newcastle defender. Ah.
63 min: Here come the changes: Barnes and Daka on, Evans and Vardy off. A change in shape then, Leicester are going to four at the back.
62 min: Twice Isak is denied: Souttar bravely dives in front to block the Swede's shot, and then Isak gets to the byline but is crowded out by a hoard of defenders in blue.
60 min: Two-thirds of the game gone. Dean Smith will be pleased but it looks as though he is readying changes: Barnes and Daka are getting their kit off.
59 min: Iversen saves to deny Isak! Almiron cuts inside and rolls the ball square to Isak on the edge of the box … his powerful shot is saved by the Leicester keeper, who didn't have to dive too far to his left, but judged the power of the shot well.
57 min: Leicester's low block is working. Newcastle are not exactly being incisive. They are lacking a proper No 10, to find the half-spaces between the lines.
54 min: Evans is down, clutching his hamstring or groin. Eeeesssh, not good news for Leicester, who desperately need their veteran defender to continue. It looks as though he's going to soldier on.
52 min: I'd be surprised to see Isak on the left for much longer. He is such a threat aerially, and somebody like Gordon or Saint-Maximin could do a fine job on the left flank, with Isak more centrally alongside Wilson.
49 min: Once again, it's attack versus defence as the home side pour forward.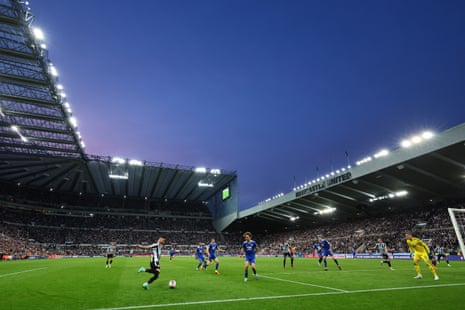 47 min: Isak carries the ball from the half-way line all the way along the left touchline and wins a Newcastle corner. Leicester players have obviously watched that Isak assist against Everton. They are terrified of him. From the corner, Newcastle have a penalty shout as Almiron's shot strikes Tielemens on the elbow, but the Belgian's arm was not away from his body. No penalty.
Peeeeeeep! We're off for the second half. Leicester have made one change: Maddison is on, Iheanacho off.
Half-time reading:
Half-time: Newcastle 0-0 Leicester
Somehow it's goalless. Can we say that Dean Smith's gameplan is working?
45+2 min: "I remember first time I saw Howe's Bournemouth team live I was amazed to find they were as "professional" as a Big Sam era Bolton team", emails Will Cook. "Now Howe is at Newcastle with money I look forward to him creating Atlético Newcastle, it's what the Premier League has been missing since Mourinho's Chelsea, a baddy team, a Darth Vadar."
45 min: Three minutes of injury time added on for Leicester to survive. Their xG is currently zero.